Tue, 9 September 2014
Rituparna Basu--How Much Is Too Much For A Lifesaving Drug 09.Sep.14
Rituparna Basu of the Ayn Rand Institute joined us today. There's a new breakthrough treatment for Hepatitis C called Sovaldi. Unfortunately, it costs $1000 per pill. It's so costly that the government and insurance companies are rebelling against the Gilead Pharmaceuticals, the developer. Should everyone in society have access to a new treatment, regardless of the cost? Should the government institute price controls to that end? Will it destroy innovation as a result? These types of questions will become more common as these types of drugs hit the market in the future, so the issues must be addressed now rather than later. We need policies that insure innovation continues while allowing the widest access possible.
Comments[0]
---
Tue, 9 September 2014
Tom Cloud--Stocking Up On Gold, Silver and Diamonds 09.Sep.14
Tom Cloud is our new precious metals sponsor. He's well qualified, having been in the business for 38 years. He's also an expert in diamonds. Right now, colored stones is where the action is at, especially intense pink and intense blue. But Tom also sees value in yellow diamonds as well. The Chinese are stocking up on them. Tom's offering free shipping and insurance to all new FSN listeners. Give him a call and find out at 800-247-2812.
Comments[0]
---
Tue, 9 September 2014
Danielle Park--When Is A Bubble Not A Bubble?
Danielle's recent article shows an alarming chart by John Hussman. It could be entitled Anatomy of a Bubble. No one knows they're in a bubble until after the bubble pops. Why is that? Perhaps because it's so difficult to keep one's perspective when the double digit gains are piling up. In any event, the chart is quite alarming and you should be alarmed too.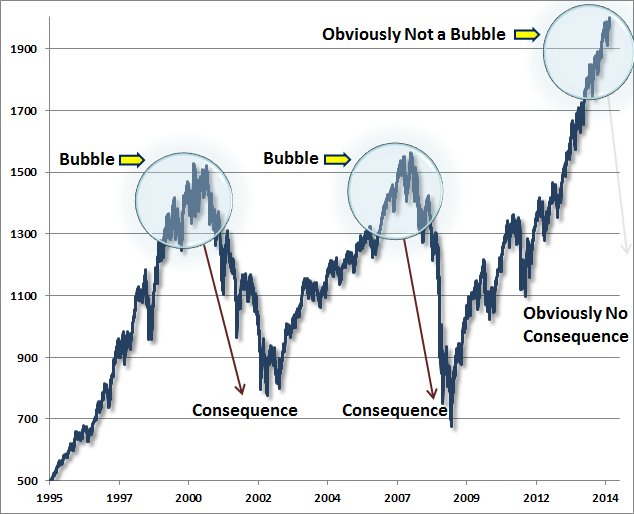 Next, we discussed Elizabeth Warren's ceaseless efforts to impose accountability upon the financial system. Unfortunately, it's a lonely battle. And finally, Payday Loans, a business that shouldn't be allowed to exist. You'll be amazed who financed these entities.
Comments[0]
---
Tue, 9 September 2014
Kyle Olson--Omaha Schools Become Tic Tac Free Zone 09.Sep.14
School nutrition experts in Nebraska are struggling to comply with new federal snack regulations championed by First Lady Michelle Obama.


"I think we've gone too far, too fast," Diane Zipay, director of nutritional services for the Westside School District told KIETV.com. "And I don't think it's a real-world environment. We might have changed the school but we haven't changed the child or our world."
The federal snack rules take effect this year for school districts across the country that participate in the federal free and reduced lunch program. They restrict snack foods sold at schools to those with at least 50 percent whole grain, with low sugar, fat and sodium content. Each snack must also come in under 200 calories, according to the news site.
Comments[0]
---
Tue, 9 September 2014
Dave Bego--Devil At Our Doorstep The Movie? 09.Sep.14
Dave Bego has chronicled his epic battle against forced unionization of his workforce. There's talk now of making it into a movie. The real issue is one of freedom; the worker's choice of whether to join a union in the first place. They tried every trick in the book to force Dave to relent to the union, yet he refused and he won.
Comments[0]
---